UltraBoard™
Foam Core Boards
UltraBoard Classic foam core boards are our most popular and versatile substrates. Features a polystyrene foam core board between two rigid sheets of polystyrene.
Aggressively priced to beat the competition, UltraBoard Lite is one of the most cost-effective foam core substrates available. Ideal for intermediate-term installation applications where cost effectiveness is priority; yet retains excellent compatibility and results with multiple print & cut application methods.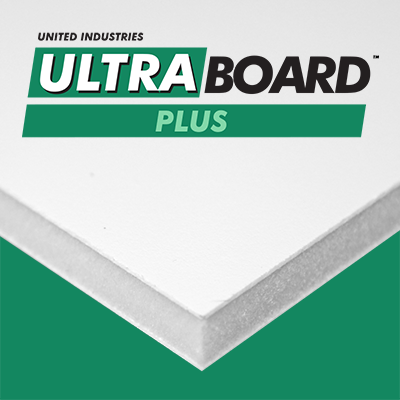 The most rigid foam core panel available, UltraBoard Plus is moisture resistant, lightweight, warp resistant, and durable. An excellent alternative to cheaper, conventional materials like plywood. Advanced adhesives adhere foam core to facers, insuring a durable and permanent bond.
UltraBoard White DP is ideal for digital printing. A lightweight structural panel of rigid polystyrene foam core faced on both sides by ultra white poly coated Kraft paper. Advanced adhesives bond core to facers forming permanent adhesion that insures durability. Polymer coated Kraft paper facers have been specially developed to provide an excellent surface for painting, silk screening, photo mounting and vinyl application.
UltraBoard Core is 3/16″ thick extruded polystyrene foam core board that is  laminated on both sides with 12 point white clay coated papers. Ideal for a wide variety of short-term graphic arts applications including point-of-purchase displays, exhibits, temporary signs, models, presentation boards, photo mounting and picture framing.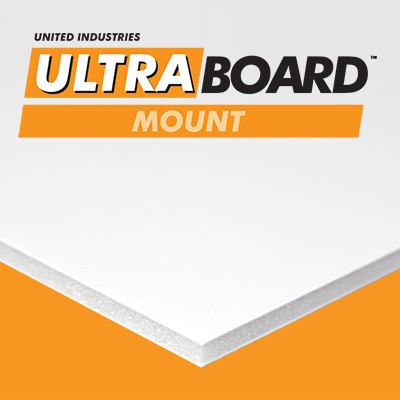 Engineered specifically for mounting applications, UltraBoard Mount is the show-stopper of foam mounting boards. It performs with all the surface quality and rigidity of higher priced foam boards, and is available in plain and adhesive surfaces.
A brilliant alternative to metals. Elegant metal signs and letters can cost you and your client a bundle. Now there is a lightweight, cost effective and easily crafted alternative. UltraBoard Aluminum delivers the same impact and appeal as metal, but in a durable, versatile foam core product.
Deliver added depth to all of your mounting applications with UltraBoard EdgeBand mounting board with durable edge banded finish. Featuring high-tack acrylic adhesive pre-coating on one side, these boards are available in 10 pre-cut sizes. Undercut by 1/8" to facilitate final trimming for perfect edge-to-edge facing mounted prints. Four pre-drilled holes are located in the back of the board to provide for easy installation or hanging.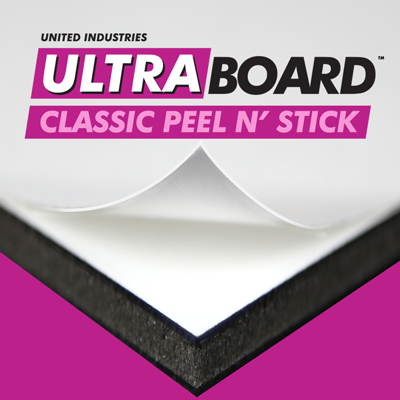 UltraBoard Classic Peel N' Stick is a premium pressure sensitive foam core mounting board designed for commercial photography development lab mounting applications. Featuring a high-density foam core with very smooth .030″ thick styrene liners, making it one of the most smooth and rigid mounting boards on the market. Peel N' Stick high tack adhesive on one side with a white liner that provides a color neutral mounting surface.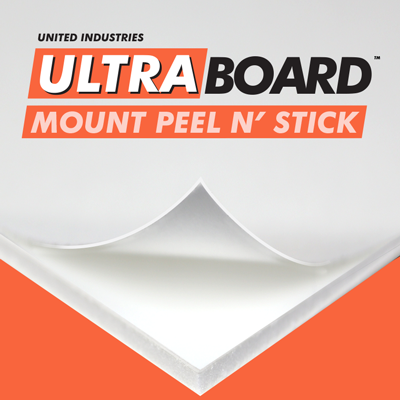 UltraBoard Mount Peel N' Stick is a premium pressure-sensitive mounting substrate designed for framed art and photographic applications. Features a heavy and dense polystyrene foam core capped with 18 pt. polyethylene coated paper liners that prevent warping. Acrylic adhesive pre-coating on one side.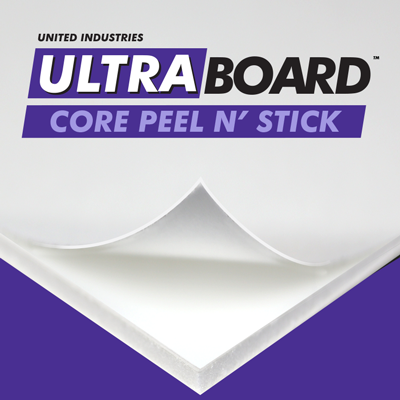 UltraBoard Core Peel N' Stick is a foam core board made up of a  polystyrene core faced on both sides by smooth clay coated paper. UltraBoard Core Peel N' Stick features a high tack adhesive on one side with a white liner that provides a color neutral mounting surface. 
UltraBoard's Advanced Adhesives
UltraBoard uses advanced adhesives that eliminate separation of facer material from the foam core.
Yellowing Resistant Foam
Competing foam core boards may begin yellowing as soon as 30 days after installation. UltraBoard maintains its white point for the lifetime durability of the board.
UltraBoard is Manufactured
in the USA
UltraBoard is manufactured in the USA and is consistently tested for quality assurance and performance so that our foam boards beat the competition.
Try UltraBoard Foam Board
Sign Blanks 
Receive a FREE sample kit of our foam core boards and have your local UltraBoard distributor contact you with pricing right away. Simply fill out our sample kit form to get started with UltraBoard!
See UltraBoard In…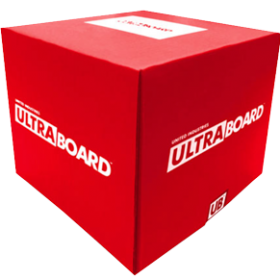 Receive Your FREE UltraBoard Foam Core Sample Kit!
Provide your information below to receive a free UltraBoard sample kit. Your local UltraBoard distributor
will contact you right away!
We manufacture an extensive line of




foam core boards including:
Styrene Foam Boards for Digital Printing
Poly Coated Paper Foam Boards for Digital Printing
Expanded PVC Foam Boards
Photo Mount Foam Boards
Edge Banded Peel N' Stick Mounting Boards
Aluminum Foam Boards for Routed Letters